In 2011, Brian Perkins founded Dirigo Strategies LLC, in Thomaston, to provide consulting services to U.S. and overseas companies seeking to sell marine products and services to navies, marines and coast guards in the U.S., Canada, Scandinavia and Estonia.
"We essentially help with ship outfitting, and with design to a lesser extent. If the Coast Guard needs a new davit, we'll find a new davit. If they need a new radar, we work with companies to identify good radars … We act as a clearinghouse." — Brian Perkins, Dirigo Strategies
More Information
Perkins previously had a 30-year career in the U.S. Coast Guard, serving in shipboard and shore-based positions that included command at sea, joint tours, and project officer or branch chief for a wide variety of research, tactics and strategy. Projects included the development of a 30-year capital asset management plan enabling planning for whole fleets in the Coast Guard.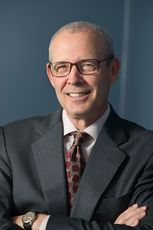 COURTESY / DIRIGO STRATEGIES LLC
Brian Perkins.
Perkins and his team now represent makers of commercial products such as heavy weather davits for launching boats, hull stress monitoring systems, amphibious Arctic crawlers, coastal vessel traffic information management systems, military radars, oceanographic equipment and environmentally friendly biofuels.
Perkins recently returned from the annual Surface Navy Association Symposium in Washington, D.C., where he represented clients such as Light Structures, a producer of fiber optic hull stress monitoring systems; Vestdavit, a producer of heavy weather davits, small crane-like devices used to raise and lower equipment such as lifeboats over the side of a larger vessel; and DeepWater Buoyancy, a designer and manufacturer of deep ocean buoys and bottom landers that developed a patent-pending year-round Arctic navigation system.
We asked Perkins about his company's startup and how he connects with clients. Here's an edited transcript.
Mainebiz: Tell us Dirigo Strategies' origin story.
Brian Perkins: I retired as chief of Cutter Forces in Washington, D.C., returned to Maine and rejoined my wife and family. I went fly-fishing for three weeks and became very bored. I got a call from a retired U.S. admiral who was working with Saab AB out of Sweden. He said, 'Would you like to help with a radar project?' I said, 'Yes, I would.'
MB: What was the project?
BP: Saab AB make radars and other products supporting NATO militaries around the world. At the time, the U.S. Coast Guard had a very good radar. But it needed a replacement. So the project was to market the radar that Saab had come up with to both the U.S. Coast Guard and the U.S. Navy. But I couldn't take on the project unless I was a business. So I set up a small business working for Saab. Then I won a contract with Eastern Shipbuilding Group [in Florida]. At some point I needed help, so I hired Victoria [Mastromarino, Dirigo's vice president] and we started hiring subcontractors. Now we're two employees headquartered in Maine and about 16 subcontractors in Florida, Seattle, San Diego, Washington, D.C., and other places.
MB: Could you describe what the company does?
BP: We essentially help with ship outfitting, and with design to a lesser extent. If the Coast Guard needs a new davit, we'll find a new davit. If they need a new radar, we work with companies to identify good radars. It's a balancing act between what the client needs and what the industry can provide. We act as a clearinghouse.
MB: Could you provide an example of the matchmaking process?
BP: There was an international company that was looking to sell davits to put on U.S. Coast Guard cutters and on U.S. Navy ships. They asked us how to approach the government. We figured out things like whom they needed to meet and the timing from a budget standpoint. Government budgets run in cycles and you have to know that cycle. If you know which trade shows they frequent, you'll want to be there.
It's a question of showing why that davit is best for an application. That can be a challenge for international companies — understanding how the U.S. government works or the terminology that will catch someone's ear. I spent so much time in Washington, D.C., that that's something I can help with. And I have a team of experts in their own areas who can also help.
MB: Staying with that example – aren't all davits the same?
BP: Davits are used to lower small boats over the side of a larger vessel — for example, to launch a search-and-rescue team to go to the aid of another ship. Unfortunately, search-and-rescue tends to happen in the worst of weather. I've gone over the rail many times and it's dangerous work. The best davits have motion compensation systems. They have shock absorbers. They have winches on either end. They're self-tailing and have constant tension. Those factors make a davit truly good. The U.S. Coast Guard has very good davits. But the davits we represent are better because they have features that others don't have. Our davits are run in the North Sea, which is shallow and rough and the waves tend to peak close together, so the ship pitches and rolls excessively. For the U.S. Coast Guard, those are ideal conditions to match up against because, at their worst, our seas are similar.
For the U.S. Navy, this company makes davits that launch more than one vehicle and adapts to different sizes and weights. That makes them better for different applications and conditions.
I knew the inherent need of the services and then connected the right people for the sale to take place.
MB: Do you first make yourself aware of what buyers need, or of what manufacturers are selling?
BP: Both at the same time. I knew the best davits for ships before I retired. Then the company came to me. I said, 'Why is this better?' They showed me, and they had all the data to prove it. It took time.
The same thing with the radar contract. I was contacted by the radar company. At the same time, I knew the existing radar was in trouble. So I said, 'Why are you the guys to replace it?' and they showed me. I'm looking at it from both directions, trying to figure out the matches.
It's been a lot of reading, trade shows, meetings, being active in ship design projects, and traveling around the world and around the U.S. to make sure I'm aware of what's going on. I have a science and engineering management background and I love the challenges of seeing if there's a better way to do things.
About Dirigo Strategies
Dirigo Strategies is a member of the Maine International Trade Center, Marine and Oceanographic Technology Network and the Greater Portland Regional Chamber of Commerce. It also works with Procurement Technical Assistance Center, Eastern Maine Development Corp. and SCORE.